FRONT FORK
Front fork oil change
1.    Fork oil leakage can cause loss of stability and safe handling. Have any problem corrected before operating the motorcycle.
2.   Securely support the motorcycle so there is no danger of it falling over.
1.    Raise the motorcycle or remove the front wheel so that there Is no weight on the front end of the motorcycle.
2.    Remove the center handlebar cover and handlebar.
3. Remove the rubber cap from the top of each fork.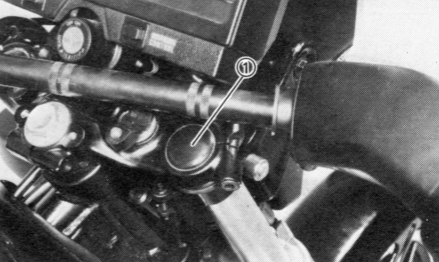 1. Rubber cap
4.    Remove the air valve caps from the each fork.
5.    Keep the valve open by pressing it for several seconds so that the air can be let out of the inner tube.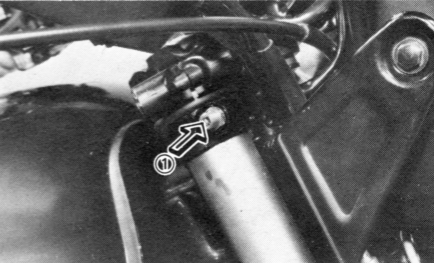 1. Push
  WARNING: 
6.    The spring seat and fork spring are retained by a stopper ring (spring wire cir-clip). It is necessary to depress the spring seat and fork spring to remove the stopper ring. Remove the stopper ring by carefully prying out one end with a small screwdriver.
7.    Place an open container under each drain hole. Remove the drain screw from each anti-dive unit.
WARNING
Do not allow oil to contact the disc brake components. If any oil should contact the brake components it must be removed before the motorcycle is operated. Oil will cause diminished braking capacity and will damage the rubber components of the brake assembly.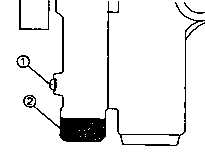 1. Drain screw          2. Rubber cap
8.   When most of the oil has drained, slowly raise and lower the outer tubes to pump out the remaining oil.
9.    Inspect the drain screw gasket. Replace if damaged. Reinstall the drain screw.
10. Pour the specified amount of oil into the fork inner tube.
Front fork oil (each fork): 309 cc (10.5 oz) Yamaha Fork Oil 20Wt or equivalent
11.    After filling, slowly pump the forks up and down to distribute the oil.
12.    Inspect the O-ring on the spring seat. Replace O-ring if damaged.

1. Spring seat 2. O-ring
13. Reinstall the spring seat and fill the fork with air using a manual air pump or other pressurized air supply. Refer to "Front fork and rear shock absorber adjustment" for proper air pressure adjusting.
Always use a new stopper ring (spring wire circlip).
Maximum air pressure: 2.5 kg/cm2 (36 psi) Do not exceed this amount.