Thermostat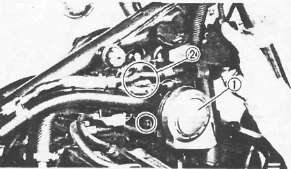 REMOVAL AND DISASSEMBLY
1. Drain  coolant
2.  Remove  horns 1
3.  Disconnect  electrical leads 2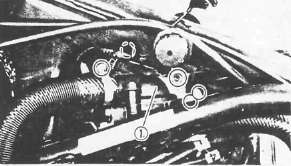 4.  Disconnect coolant hoses
5.  Remove thermostat housing 1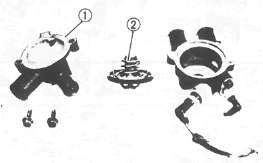 6. Remove:
• Thermostat cover 1
• Thermostatic valve 2
INSPECTION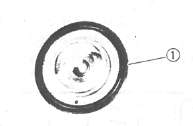 1. Inspect o-ring 1 Replace if worn or damaged.

2. Check thermostatic valve and replace if out of specification.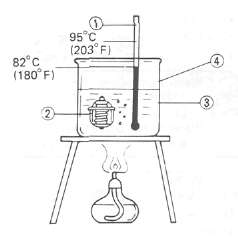 1 Thermometer  2 Thermostatic valve  3 Water  4 Vessel
Inspection steps:
• Suspend thermostatic valve in a vessel of water. 
• Place reliable thermometer in water. 
• Heat water slowly. 
• Observe thermometer, while stirring water continually.
Thermostatic Valve Opening Temperature: 82°C (180°F)
Full Open Temperature/Lift: 95°C(203°F)/8mm (0.31 in) or more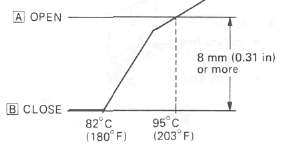 NOTE:
Thermostat is sealed and its setting is specialized work. If its accuracy is in doubt, always replace it. A faulty unit could cause serious overheating or overcooling.
ASSEMBLY AND INSTALLATION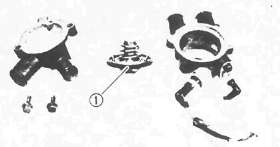 1. Install:
• Thermostatic valve 1
• Thermostat cover
NOTE:
Install the thermostatic valve so that the breather hole is forward.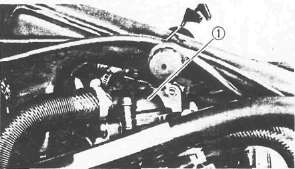 2.  Install the thermostat housing 1
3.  Connect:
• Radiator hoses
• Electrical leads
4.  Install the horns
Tags: